"Art: something that is created with imagination and skill and that is beautiful or that expresses important ideas or feelings." — Online Merriam-Webster Dictionary
"Before letters and numbers, [art] was the original language," said Roger Senski, a patron of the Trenton Area Soup Kitchen. "And today, it is more than that — it is like a priceless currency."
Art defines one of the most diverse fields of study and expression. This field has been synonymous with the course of history and transformation of culture. And, more and more frequently, art is becoming a vehicle for change in urban areas such as Trenton, N.J.
Nowhere is that more evident than the walls of the Trenton Area Soup Kitchen (TASK) that are adorned with the work of the A-TEAM.
Sprouting from an art class offered by TASK in the late 1990's, the A-TEAM became an independent entity in order to share and sell its work in the community. While the A-TEAM is still hosted and sup- ported by the soup kitchen, as a collective, the artists have continued to make their own unique impact within Trenton.
"Drawing kept me off the street and out of trouble and now I teach others how to do it too," said one of the founders of the A-TEAM, Herman "Shorty" Rose.
Along with working with the A-TEAM at TASK, Rose also attends the monthly classes that the group facilitates at the ARC Mercer, an organization that helps people in need achieve their fullest potential through various instilled programs.
"It is not a contest. Everyone helps each other and everyone works together," said Rose. "When young guys come in, I tell them, 'Everyone can draw, just give it a shot and see what happens.'"
Senski, one of the team's newer members, emphasized the significance artistry carries.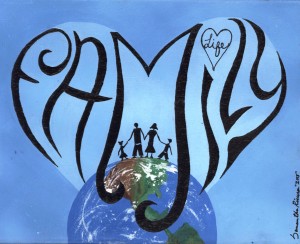 "It is important for the city," Senski said. "Some people had college, I had art. Anyone who can paint, gives them a chance to be ahead of the economy."
With over 11,000 households in the city earning less than $25,000 annually, reported by the U.S. Census' 2008 American Community Survey, being ahead of the economy is a luxury that many in Trenton could benefit from.
With over 50 members participating in 20 events a year, the A- TEAM continues to make its mark in Trenton and it has garnered the praise from the highest powers in the country.
After a striking portrait of President Barack Obama was completed by the A-TEAM's Walter Roberts Jr., the group decided to get the Commander-in-Chief's thoughts on the piece and sent it to the White House. Roberts Jr. received a letter of commendation from the president for his impressive work. A letter that has been immortalized in one of Rose's signature frames for visitors to admire.
"Whenever we get out, people ask, 'Is the A-TEAM coming?'" said Rose. "They are happy. They bring their friends, and I say, 'If you love what you do, keep doing it.'"
A-TEAM
Website: http://www.ateamartists.com/
Trenton Area Soup Kitchen
Phone: 609-695-5456 72
Escher Street, Trenton, N.J. 08609
Article written by Raj Manimaran for the Fall 2014 edition of The Wall