By Daniella Marino
Over time, technology has become a useful tool to many Americans; so useful that for the most part, everything is now done electronically. With computers, cell phones, iPads, tablets and much more, the Internet can be accessed by those who are fortunate enough to provide themselves with these resources. However, there are people who struggle financially and do not have the opportunity to equip themselves with these advancements.
With that being said, there has been a digital divide formed between those who have regular access to the Internet and those who do not. The digital divide occurs between those people who are financially capable of keeping up with the vast advancements in technology and those who cannot afford such luxuries.
Homelessness is something that does not only occur in Mercer County and the Trenton area, but all around the United States. In the year of 2015, in Mercer County alone, there were approximately 600 people left out on the streets at night, experiencing the treacherous conditions of homelessness.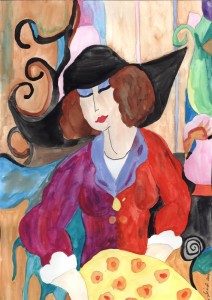 This number does not include the numerous amount of people who struggle to provide for their family, who live paycheck to paycheck and those who have to choose between necessities such as warmth at night or dinner on the table.
Many people have acknowledged the importance of homeless citizens who need the experiences of computers and the internet, and have acted positively to supported these people. Specifically, the Rescue Mission of Trenton is a non-profit organization agency in the city of Trenton that serves men and women who are in need of food, shelter, and other necessities.
The TEACH program, which has been created by the Rescue Mission of Trenton, allows people who do not have a home with a computer or the means to afford a computer, to access the internet, learn how to search the web, and navigate their way through the digital world.
Because many job applications are to be completed online, the TEACH program provides people with opportunities for employment and to better their lives. Both classroom instruction and one-on-one tutoring are offered through the program. Tutors consist of volunteers from the area who are very good at working with computers and searching the internet.
The Rescue Mission of Trenton's goal is to provide a safe, clean, and warm refuge for the homeless, the hungry, the transient and the addicted. People will find this program very beneficial if they are interested in GED preparation, basic literacy tutoring, parenting classes and computer and word processing skills.
The Rescue Mission of Trenton is located on 98 Carroll Street in Trenton, New Jersey. It is open from Monday through Saturday, opening at 10 a.m. and closing at 5 p.m. If interested in contacting this facility, call (609) 695-1436.