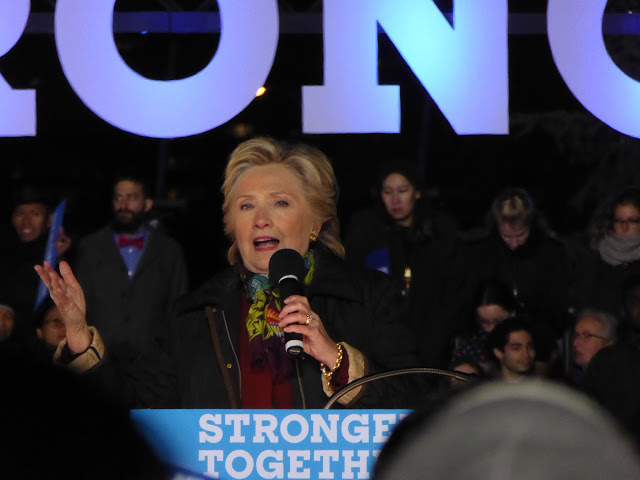 Both of the leading presidential candidates came to rallies in Southeastern Pennsylvania this weekend that were attended by thousands of people.
Republican Donald Trump spoke at an event at an athletic club in the suburban Bucks County township of Newtown on Friday evening. Topics addressed by Trump ranged from immigration to Common Core, and he also discussed manufacturing in the region, stating that "just a few miles from here, there's a famous bridge that says Trenton Makes, The World Takes. Under a Trump administration, I can promise you we are going to start making things in America again." At one point, after making claims regarding crime rates in the country, Trump said "you don't hear that from these dishonest people back there, meaning the media, look at them", at which point the entire crowd turned around and booed, chanting "CNN sucks" and other lines.
The following evening, both Democratic candidate and former Secretary of State Hillary Clinton and vice-presidential candidate Senator Tim Kaine took the stage 30 miles south on the campus of the University of Pennsylvania in Philadelphia, with the Center City skyline in the background. Clinton, speaking outdoors on one of the coldest nights of the season, mentioned mass incarceration, the economy, higher education, and other issues. Additional speakers included candidates for Pennsylvania state offices and Katie McGinty, a candidate to represent Pennsylvania in the United States Senate.
One of the 7,000 attendees at Clinton's rally was resident Michael Grant, best known as Philly Jesus, who told The Wall that having events like this in Philadelphia is "nice", but that he is "on the fence" about which candidate he supports.