By Ellen Choi
"Hunger is a huge problem," said J Steinhauer.
Steinhauer, 30, has been working at the Trenton Area Soup Kitchen (TASK) for seven years, and is current the Development and Community Relations Coordinator at TASK.
He usually works on fundraising grants, posting information on social media, giving out 'Thank You' cards to donors or volunteers who help out, and supporting anything that can help the organization.
TASK is an organization which provides food to people who are hungry in the Trenton, New Jersey area. It also offers programs to encourage self-sufficiency that improves the quality of life of its patrons.
Steinhauer went to college in northern part of New Jersey, and obtained a degree in communications. During his time at college, he took a class called, "Local Change and Global Impact," which gave him an idea of how a small area can help to develop a global change. After he graduated from college, he was looking for an internship that was for a non-profit organization. Steinhauer fortunately got an internship at TASK, and after a year of interning, he started working there from then on.
TASK helps people who are in need, but there are no specific groups of people who they choose to aid. Anyone who comes or visits TASK gets a meal or any information that TASK provides.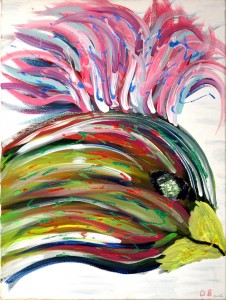 TASK has extended programs such as the Adult Education Program (AEP), which helps adults to learn how to read and write. There is also an art program, a music program and a case manager service program. People who are involved in these programs are even able to get help with getting a job, housing or utility, and preparing for the GED test. These programs are also involved with various organizations, so they can help people in many different ways.
Steinhauer started to help other people after he found out that there are actually not a lot of people who help other people.
"People often stay at home these days more than they go out," said Steinhauer. "People usually do not communicate in person since our technology system is so developed."
Steinhauer wanted to be a part of the solution to the problem of the increasing a number of people who are experiencing hunger. Steinhauer shows that helping one another can change our generation through co-operation.
The hardest challenge for Steinhauer at TASK is that it is so difficult for him to say goodbye to patrons.
Steinhauer has a house and a car, he can do anything for his personal life, but there are still people who are hungry all the time and do not have the opportunity to live a normal life without getting any help.
"These days, people usually do not talk about people with hunger," said Steinhauer. "People even do not know hunger exists since they can get food easily."
However, people, in general, need to think of hunger more and try to help people with hunger in different ways.
Steinhauer wants people to start telling others about the word "hunger."
Steinhauer said that there are about 3,000 hungry people in Trenton. It is very important to spread the word "hunger" and come up with a solution to stop the increasing of people with hunger. Spreading out the word is the first thing that we can do in order to help those people.
"Always remember that there are still people out there with hunger and still need help," said Steinhauer. "People, in general, should be the ones who start talking about the word 'hunger'."