By Annette Espinoza and Jared Kofsky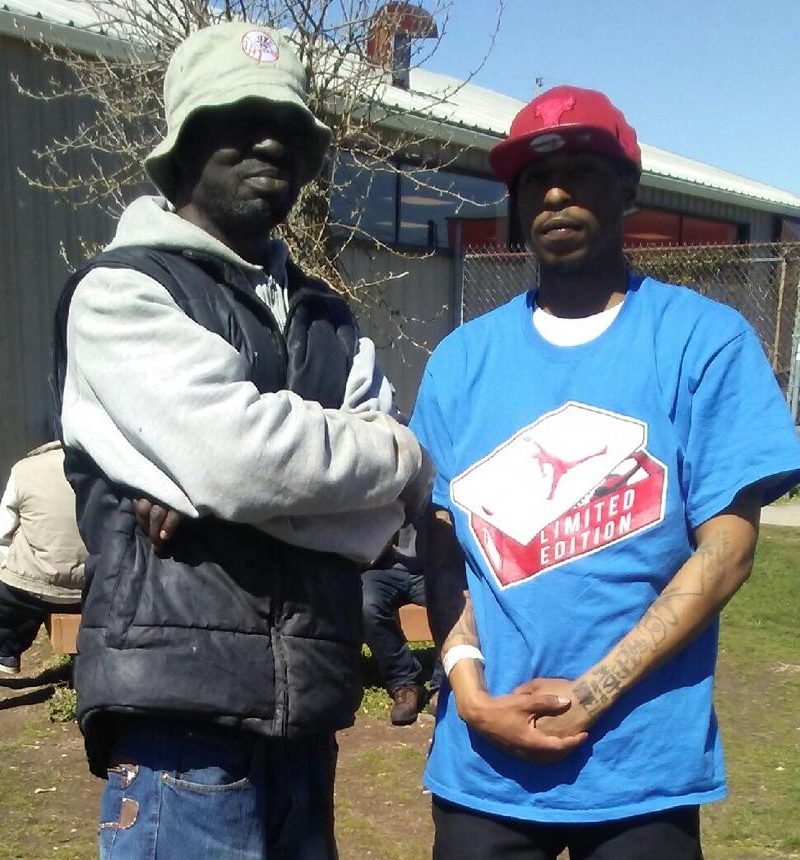 Editor's Note: This is the first part on an exclusive two-part series about Morgan Wilson's surprise reunion with his son. Part 2 will feature the story of what has occurred in the time since this story was written. It will appear in our Summer 2018 edition, which will be known as The Streetlight.
Between his first and second days working at the Rescue Mission of Trenton as part of his new job at the Mercer Alliance to End Homelessness, Trenton Area Soup Kitchen patron and lifelong Mercer County resident Morgan Wilson crossed paths with an individual that shared a unique connection to him.
Wilson remembers the echo of this young man's name that drew him out to the lobby that day in September 2015. There, in the entrance where many young men like him walk in and out for the services at the Rescue Mission, was someone named Morgan too.
"I'm sitting down and I'm looking at him like a baby," Wilson recollected in an exclusive interview with The Wall.
"I said 'your name's Morgan? My name's Morgan too," before stepping outside to continue conversing with the other man.
As he soon realized, that day, after searching for him for over two decades, the young man who Morgan had run into was none other than Morgan West Jackson, his long lost first son.
As Jackson spoke about how he was adopted at a young age, and never knew his father, Wilson became increasingly confident.
"I listened to his story that day and I realized that this was my son," he explained.
Twenty-four years filled with trepidation and loss had separated Wilson from Jackson.
"I didn't want to be absent, I didn't want to be like my father," Wilson told The Wall.
However, in the early 1990s, Wilson's struggles with drug use and subsequent periods of incarceration ended up dividing him from his child, but he always knew that Jackson was out there somewhere. As Wilson moved into transitional housing, a need grew within him to reclaim his family and reunite with his missing child.
In his mind, Wilson was haunted by an image of his deathbed and his wondering of who would carry his casket. Who would attend his funeral? And what would be said about him? This rang a need to leave a legacy; a legacy of positivity and hope, and a legacy for his sons to carry on.
Now, Wilson, who has a four-year-old son as well, describes himself as a man with so much more at stake and so much more to live for. He is proud of his story and his efforts to be a better, more positive person for the people that depend on him.
Wilson and Jackson were inseparable after their encounter. Although the feeling of being called 'dad' by a 24-year-old man was surprising to Wilson, it introduced him to a love like no other—a love that stemmed from an understanding and forgiveness from Jackson.
"He is a good kid," Wilson remarked, "better than me when I was his age."
The more that Wilson spoke with his son, the more he learned about the son's life over the previous 24 years. Jackson had been adopted by a suburban Philadelphia family as a young child. He later lived in both New York and New Jersey, before recently returning to the Keystone State, settling in Scranton and finding a new job as a hotel dishwasher.
"Working hard is in the bloodline," according to Wilson, "I am so proud of him for never giving up."
Although Scranton lacks direct public transportation to Trenton, and visits between Wilson and Jackson are rare, both speak frequently, especially since Jackson's adoptive mother, Frances, passed away in 2014.
"He is very protective of me, said Wilson. "I am the only person he has left."
Wilson describes how his son "got me in the loop" by signing him up Facebook, and speaks fondly of Jackson coming to the capital city recently to sleep over, share drinks and stories, and discover additional commonalities between the two of them. As it turned out, both Wilson and Jackson had overcome a variety of obstacles in their lives, developed an interest in boxing, and shared a sense of ambition to be better men.
"When he heard about all of the things I had overcome, he said 'Dad, you're the greatest'," Wilson recalled.
Although in the two years since their first reunion, Wilson continues to miss Jackson, he is not the only one. Wilson's four-year old son asks for his brother consistently, as do his sisters, his cousins, and his grandmother, who were equally excited about regaining a family member when Wilson shared the news with them back in 2015. His two sons, despite being from different marriages and having a 22 year age gap between them, play together and are mentors to each other. He hopes that his sons will continue to strive for positive and healthy relationships, and that they will remain family oriented and protective of one another.
Wilson's case manager at Oaks Integrated Care since 2014, Rose Bernard, remembers the text message she received from Wilson that fall day two years ago. He wrote that something "unbelievable" had occurred to him and that she had to meet with him immediately. They met outside of Trenton City Hall that day and Wilson explained the heartwarming news.
"I'm supposed to help him, but I think he's helped me more," said Bernard, describing Wilson's story as one of inspiration. "
Although you go through some hellish situations sometimes, there's always light at the end of the tunnel," says Wilson. "You've just gotta' keep pushing."
So what does the future hold for Wilson and all of his relatives? After putting himself together again "like a puzzle," Wilson is enjoying the joys of life with his sons and his entire family by his side. In fact, Wilson is ready to grow the family and hopes to be a grandfather. For now, though, Wilson looks forward each year to March when both of his sons celebrate their birthdays and Jackson comes back to his birthplace, Trenton.
"The bond that we have is incredible," said Wilson. "I just wish he wasn't so far away."