By Kristen Frohlich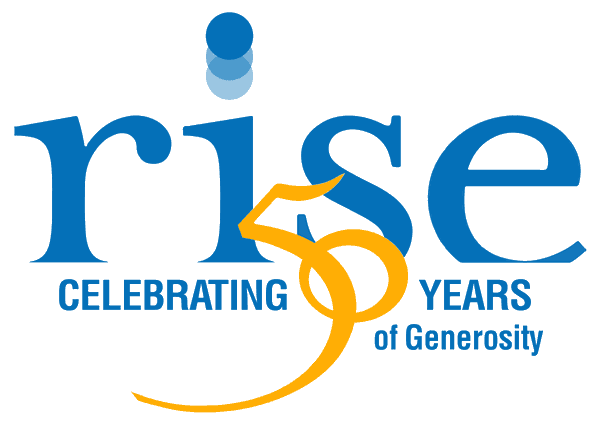 In 1967, a small group of community stakeholders opened the doors to the organization, Community Action Service Center, Inc. (CASC) in an ongoing effort to fight poverty. Transportation services, however, posed a challenge to many of CASC's clients, therefore turning their work into that of a lifeline and essential service agency.
After 40 years of work across four locations in Mercer County, the name CASC was changed to Rise, A Community Service Partnership in 2008. Today, Rise is a private, non-profit organization that serves residents in Hightstown, East Windsor, and the surrounding community.
Recently, the organization celebrated the success of their 50 years of service to the local community. One of their greatest successes would be the Rise Food Pantry, which supplies nonperishable groceries to families every month.
The Pantry was formed in 2010 to supply 200 qualified families with groceries but quickly expanded to serve over 325 qualified families in 2015. In order to be qualified, one must meet the federal poverty guidelines. Open for three nights during the week, the Rise Food Pantry has proven to be beneficial to all families in the surrounding area.
Although their Food Pantry has shown success over the year, the organization's Adopt-A-Child or Family Program is expanding. The Holiday Gift Program involves a sponsor "adopting" a local child or family for the holidays and providing the child or family a gift that they registered for. According to Executive Director Leslie Koppel, the Holiday Gift Program has tripled from 300 to 1,000 kids over the past several years.
"Rise has a really strong program in place to fulfill the basic needs of those we serve, but our future goals involve trying to go more in-depth with each of these efforts," Koppel said. More specifically, Rise has plans to expand their Rise to College Readiness program, an initiative that helps local students obtain the supplies that they need before college.
Rise also wants to increase the impact of their yearly Community Dinner, a dining event held the Tuesday before Thanksgiving during which local restaurants donate food. For the cost of one dollar, the Community Dinner has served over 200 people every Thanksgiving since its beginnings in 2010.
Koppel and her team are looking forward to this work: "Rise is looking forward to creating new relationships in the local community. Our 50th anniversary is an opportunity to expand and to reflect upon all of the work we have already done and plan to do. We appreciate all of the passionate donors and volunteers that have gotten us here."