By Lisa McMillon
I worked at a nursing home for 12 years, the longest that I have ever kept a job. I thought I was going to retire with that job. I had a great 401k plan, four weeks paid vacation and all the bells and whistles that come with job longevity. My boss started bringing in family members who were recent college graduates and asked the staff to help train them in various departments.
At first, everyone went with the program. However, slowly but steadily they started laying off employees and the family members starting getting various positions. I thought I should be safe. I had been with the company for 12 years; staying overnight in winter emergencies and filling in when they did not have adequate staff coverage. And then it happened. I was feeling very leery, butterflies in my stomach, when the boss informed me that they didn't have adequate funding. They would be laying off some employees, and I was one of them. I was in shock and total astonishment.
"How could this happen to me?"
I later found out that the dietary aide that I was training, so that I could take vacation, would be filling my position. I was making $15.00 an hour and they paid her $9.75. I applied for unemployment, but this took some time to process. My bills were accumulating and I started falling behind on my rent, PSE&G bill and other living expenses. I started going to local food banks. My pride was consuming me.
"How could this happen to me?"
I gave my landlord my last four unemployment checks, and explained to him that I was waiting for an extension. A week later, I got a court ordered eviction notice.
"How could this happen to me?"
I went to court and got a 30-day hardship stay as I had been living there for 11 years. I was praying that my unemployment would come through. But after 30 days, I was evicted from my apartment. My unemployment check came through after I was evicted, so that money was consumed while staying with various relatives and at hotels.
But as soon as you don't have any money, people make you feel unwelcome. I had to split up my family, stay at various places because of my monetary situation and spend most of my money so that my child could stay in a stable environment. It was heart-wrenching.
"I was homeless!"
I got a job at a friendly restaurant and was getting paid partial unemployment. I went from 100 to zero real quick. I hated leaving my son at night, hated splitting up, but I had to do what I had to scratch a meager living. I would go without eating properly sometimes just so that he could eat. In between working, I would apply for jobs every morning for nine months. I searched for housing and a decent job. I finally found an apartment, put the deposit down, but that was delayed because an elderly man's house caught fire and he had to live in the apartment temporarily. Another setback.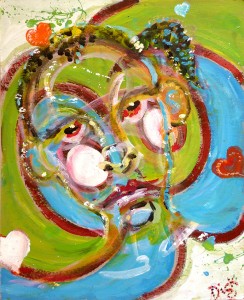 My mother called me one day. She was always encouraging me to pray. I was becoming desolate.
"When is the Lord going to answer my prayers?"
Slowly, the miracles started happening. I got a job offer. I immediately accepted the position. I was ecstatic when the woman informed me that I could start in two weeks. I started the job, and loved it. I got off to a rough start, very rough, but I endured.
I was talking to one of my supervisors one day and she asked me, "Are you okay? You look very stressed."
I replied, "I'm OK." She then asked me if she could pray for me, and I said, "Yes." She prayed, and I started to cry. She was adamant, "What's wrong, Lisa?"
"I'm homeless," I said. "I'm grateful for my job, but I need an apartment so me and my child can live together."
She said, "Why didn't you tell someone about your situation?"
She started to help me mentally and materially. Then I got a second job. She told me to keep the faith — it's coming. I was working both jobs and checked with the apartment complex daily. The landlord called me about three months later and said, "Lisa, I have good news and bad news. The older gentleman will be relocating to the Senior Center, but the apartment hasn't been painted."
I told her, "I just need my own place. I'll take it, they can paint it later." She said she would have to get a lock for the apartment. The first night, she said she didn't have time to get it. She called me the second night and said the same thing. I hung up the phone on her. She called me back and said to look out the window. I looked up and she was dangling some keys. I left the chicken in the fryer. I was crying and happy at the same time.
It was over.
I had a decent job and an apartment. I lived in that apartment for a whole month without cable or television. Just a couch and a bed. I was just happy to have a place to call home again.
As for the job, I'm still working there and it has gotten better with time. I have an extended family and friends, and I'm doing what I love: cooking. Come see me! The food is fantastic, and you can get anything from soup to nuts for free. You can even get deodorant and soap! I invite you to come dine with me at the Trenton Area Soup Kitchen.