Article by Natalie Kouba
When hardship hits home, it can be difficult to ride out the storm. Some young adults and children decide their best option is to abandon ship and leave their families altogether, while for others, it is the only alternative. Either way, many youth nationwide are faced with homelessness each year, and look for the anchor to keep them grounded — that is what Anchor House aims to do.
Since 1978, the Anchor House in Trenton has provided a safe haven for not only the youth in Mercer County, but across the country, ensuring "a safe place to rest; wait through the storm while in crisis and a way to move on when the crisis is calmed," according to the Anchor House website.
In Mercer County last year, 303 people under the age of 18 were reported homeless, according to the U.S. Department of Housing and Urban Development.  Of that group, 117 children who were homeless were between the ages of 7 and 17, and 186 were six-years-old or younger.
The Anchor House aims to provide opportunities for the futures of young adults through temporary housing and long-term support.
Through five different programs, youth can find the resources and support they need, respective to their appropriate ages. From newborns to 21-year-olds, the Anchor House opens its doors to anyone who walks by.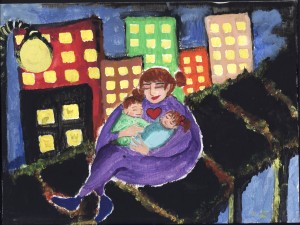 "They can just walk in," said June Albanowski, director of Children & Youth Services. "So they can just ring the bell, and, you know, they can come that way. Or they can call us."
The Anchor House is available 24/7 to ensure that help is provided whenever needed. Anchor Link, the Anchor House's street outreach program, is a drop-in program for youth 14 to 21-years-old where they can find day-to-day relief, such as eating and showering, but is also designed to assist in strengthening life and career skills.
While the Anchor Link program does not provide housing, most of the other programs that they offer are 30-day shelters.
For the especially young children, Angel's Wings takes in those who have faced many potential issues, ranging from neglect to abuse to behavioral problems. Newborns to 12-year-olds are welcomed into foster homes until a permanent home can be arranged.
At the Anchor House Shelter youth from 10 to 17 are housed. While it only is a 12-bed program, the staff will never turn a child away, but instead, find an alternative housing situation.
Youth gain a sense of support and purpose, at the Shelter, where it may have been lacking elsewhere. Over the course of the 30-day transitional program, these children become much more than guests.
"It is a home for them, so, you know, it's not institutionalized," Albanowski said.
The youth at the shelter are given a temporary release from the stresses they face, and actually have fun during their stay. Staff members assure they get to school, and even try to keep them in their own school districts, but take them on recreational and educational trips in their free time. Volunteers also work closely with the youth to tutor them and teach them about their own hobbies.
The staff and youth form friendships as well and regularly go to the local park for a game of basketball, on roller-skating outings, to the movies and even the Great Adventure theme park.
Community service is also a valued part of the program. Staff members take youth to the soup kitchen or nursing homes to lend a hand to the community which has helped them.
"We believe it is important for them to give back to the community as well and not just be recipients of service and that they are able to do things for others," Albanowski said.
The Anchor House programs are intended to serve as temporary shelters and try to reunite youth with their families as soon as possible, when possible.
Individual, family and group counseling sessions are held weekly at the Shelter to try and knead through any communication rifts and mend gaps.
From runaways to youth who have faced abuse, neglect or homelessness, some have not only been able to get themselves out of troubling situations, but have excelled beyond what they thought was possible.
The Anchorage program, which currently only has six young adults, helps them work toward independence. Here, the young adults learn about becoming self-sufficient in their careers and finances. They gain valuable skills in communication, personal health and wellness, time management and budgeting.
From graduating high school to moving into a college dorm, the Anchor House prides itself in the success of their youth.
"One went to Rutgers … some of them even live on campus, so they transition out from our program and might go to college full- time," Albanowski said. "That, I think, is a real success story. Some of them even say that if it weren't for our program, they wouldn't be in that situation."
Anchor House Shelter, School Outreach Program (609) 396-8329
Anchorage Transitional Living Program (609) 989-1625
Anchor Link Street Outreach Program (609) 218-5630
Anchor Line (609) 218-5630
This article originally appeared in the Fall 2013 Issue of The Wall Newspaper