Article by Melissa Katz
War has plagued this country since its founding, most recently from the Korean War and the Vietnam War, to the more recent wars in Afghanistan and Iraq. Each war has a different focus, origin and outcome. One thing that does not change from war to war, no matter the circumstances, is the effect it has on returning veterans. It is a simple fact – no one returns home the same as when they left. What they return home with – the traumas and the images – lasts a lifetime.
Kenneth Bridgewater, a United States Marine Corps Veteran of the Vietnam War, is now residing at the Salvation Army Perth Amboy Corps in Perth Amboy, New Jersey.
Bridgewater has had a life full of struggles and difficult times, from the time he was drafted at the age of 19 in 1968. He began abusing drugs as soon as he entered the service and did not stop until 2012.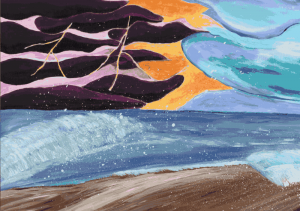 "I've been clean now for 18 months. I'm still alive. I'm 65 and I'm still alive. We're still human beings. We still have a mind and we still think."
Bridgewater grew up in Trenton, New Jersey with a mother, three sisters and two brothers. After being drafted, he began work as a warehouseman in the U.S. Marine Corps. He described his first days in the Marine Corps as: "Scary. It was my first time away from home."
He was assigned to stations in Hawaii and Guantanamo Bay, Cuba. During his time serving, Bridgewater got involved in the pervasive drug use among Army and Marine Corps troops, which continued for 44 years after returning home.
Over these 44 years, Bridgewater was in and out of jail, constantly involving himself in different drug activities.
Upon returning home, Bridgewater got married, but he did not feel any respect from the public. In 2010, he was put in jail on multiple drug charges.
"I should've gone in for 50 plus years. I was lucky. I got probation and a fine," said Bridgewater.
In 2011, he was taken back to jail for probation violation and spent 5 months in the county jail.
At this point, Bridgewater had had enough. After getting out of jail, he went to the East Orange VA Hospital and spent 44 days in a drug rehabilitation program. He continued in his recovery by spending the next 6 months in the Lyons Veteran's Hospital in Basking Ridge, New Jersey, before coming to the Salvation Army Perth Amboy Corps.
As of 2012, it is reported that as many as "62,619 veterans are homeless on any given night. Over the course of a year, approximately twice that many experience homelessness," according to the National Coalition for Homeless Veterans and the Annual Homeless Assessment Report (AHAR), prepared by the Housing and Urban Development Department for Congress. "Only 7 percent of the population can claim veteran status, but nearly 13 percent of the homeless adult population are veterans."
The U.S. Department of Veterans Affairs reports that "each year, Veterans Affairs (VA) provides health care to almost 150,000 homeless veterans and other services to over 112,000 veterans through its specialized homeless programs."
Multiple factors contribute to the homelessness of veterans, such as lack of resources, poverty, support networks, employment. Difficult living conditions in substandard or overcrowded housing may be their only option. These factors are also putting about 1.4 million other veterans at the risk of finding themselves homeless, according to the National Coalition for Homeless Veterans.
Many of the displaced or at- risk veterans suffer from post-traumatic stress disorder (PTSD), in addition to substance abuse and an absence of any family or communal support. "Additionally, military occupations and training are not always transferable to the civilian workforce, placing some veterans at a disadvantage when competing for employment," said the National Coalition for Homeless Veterans.
"The problem is people don't know," said Nathan, an employee of the Salvation Army Perth Amboy Corps. "Most people are unaware of the issues when veterans return. The public needs information. It's important for people to know how much we want to legitimately do good for the people of Perth Amboy and specifically our returning veterans."
The Salvation Army is devoted to helping communities everywhere, keen on providing whatever is necessary to help people.
"This place is helping me get on my feet," said Bridgewater as he smiled and let out a deep breath. "I'm still alive."
The Salvation Army New Jersey Divisional Headquarters
P.O. Box 3170 Union, NJ  07083
Phone: 908-851-9300 Fax: 908-688-4460
Email: nj@use.salvationarmy.org
The Salvation Army Homeless Drop-In Center
575 East State Street Trenton, 08609
Phone: 609-599-9373
More resources for veterans experiencing homelessness can be found in the resource guide.
This article originally appeared in the Fall 2013 Issue of The Wall Newspaper