"It was a Friday morning, I will never forget that day, when my daughter called," reminisced Jo Ann Abdelwahabe. "She said that the house was on fire."
Upon arriving at the scene, Abdelwahabe was unable to process what was happening as she witnessed firefighters swarming what was left of her home. It was then when she was asked, "Do you need to go to a shelter?"
She could not even begin to consider the option. Abdelwahabe, a Trenton resident, had led a very normal life up to this point. She even volunteered to tutor students in math at her daughter's school, and was taking care of her ailing mother on the day of that life-altering call.
After losing her home, she at- tempted to stay with her parents, continuing to care for her mother. But once her mother's condition took a turn for the worse, Abdelwahabe was forced to seek assistance. It was under these dire circumstance that led Abdelwahabe to HomeFront.
A local homelessness prevention agency serving families and individuals in Mercer County, HomeFront provides many services and programs, as well as an emergency shelter, to keep those faced with situations, similar to Abdelwahabe's, from having to resort to a life on the streets.
Abdelwahabe stayed in the shelter for three months, and although this could have been the lowest point in a string of unfortunate situations, she had no idea that it was actually the beginning of many uplifting moments to come.
"One of the ladies at the shelter invited to me to go to an art class, but I told her that I wasn't an artist," said Abdelwahabe. Despite her reluctance, Abdelwahabe was persuaded to just attend one class at ArtSpace — HomeFront's art program — to see what it was like. It was here that she discovered her new talent.
"I found out that I loved to paint," Abdelwahabe said.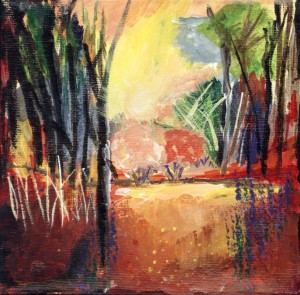 It was ArtSpace's mission in action. The therapeutic art program encourages its clients to express their stories through creative outlets; stories that may otherwise be kept hidden from others. It also instills a sense of confidence and self-esteem that many struggle to attain given their circumstances. "Jo Ann was a natural from day one," Executive Director of ArtSpace, Ruthann Traylor, said. "It's like she's been painting for years."
In addition to operating a venue for paintings, Traylor also works tirelessly to get her client's work into exhibitions to be sold. Abdelwahabe can still remember her first exhibition.
"It was an art show so I got as dressed up as I could," recalled Abdelwahabe. "I had a purse and a nice dress, and I felt like a movie star." It was then when she was told that her first painting had been bought.
"I couldn't believe that some- one wanted to pay me for my art," Abdelwahabe said.
After having moved into an apartment of her own and sold several more paintings, Abdelwahabe has still not gotten used to people's admiration of her work, but she has begun to share her artistic prowess with others.
"She not only helps the other la- dies with their paintings, but also teaches them to sew at our new space," Traylor said referring to SewingSpace, a new venue that started with just a few sewing machines, but is now adorned with paintings, bags and patterns designed by clients.
"I really like working with the other women here," Abdelwahabe said. "Sewing provides them with a way of realizing that they can get past these seemingly insurmountable obstacles."
After effortlessly demonstrating the use of several machines and sharing some of her newer work, Abdelwahabe expresses her gratitude for Traylor, the volunteers, as well as HomeFront as a whole.
"The work we do here is more than just gratifying," Abdelwahabe said. "It is empowering for us all."
Article written by Raj Manimaran, for the Fall 2014 edition of The Wall