By Raj Manimaran
"Every man must decide whether he will walk in the light of creative altruism or in the darkness of destructive selfishness." — Reverend Martin Luther King, Jr.
The only way to describe the life of Hampton Jenks is extraordinary.
Stints at Jamesburg Juvenile Detention Center and Mountain View Youth Correctional Facility as a teenager, three years at Trenton State Prison and 10 years at Rahway State Prison; over 15 years in and out of incarceration, 30 years of struggling with drug addiction and lastly experiencing homelessness — when hearing only this portion of his biography, many would expect Jenks to have been another life lost to drugs and recidivism.
The dichotomy presents itself when you find out that he went on to earn a bachelor's degree in Liberal Arts and a master's degree in Human Service Delivery, and that he is now working on his second master's degree and hoping to eventually earn a PhD.
Jenks grew up in Trenton, N.J., attending the Monument Elementary School and Junior High School No. 3. That is, until his first brush with the law came at age 14. After returning home, Jenks' life seemed to be revolving around jobs, school and correctional facilities. At age 17, he worked at Acme Rubber in Trenton, passed a precollege exam and was accepted to Burlington County Community College. Unfortunately, soon after, Jenks was arrested and sentenced to three years at Trenton State Prison. Two years after his release, Jenks was sent to Rahway State Prison for an additional 10-year sentence.
In 1990, Jenks was released from prison; he spent the next five years working a variety of jobs, even becoming a certified technician in HVAC and refrigeration. However, in 1995, he returned to jail for two years.
This would be Jenks' last time inside a prison.
When asked what changed, Jenks responded, "My family stuck by me throughout my life. My father and three of my sisters passed away while I was in jail. They t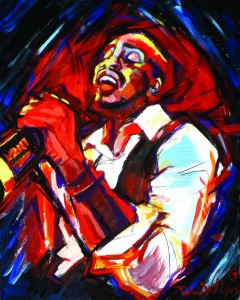 old me at the last minute and wouldn't let me go to their funerals. I decided then, I would never go back to jail and miss someone else's funeral."
Jenks returned to school and came one class short of an associate's degree before taking a job as an outreach worker at New Horizons Treatment Center in Trenton, N.J. For the next six years, he helped connect individuals to resources such as counseling and transitional services as they recovered from drug and alcohol addictions. Unfortunately, Jenks' own drug addiction brought his life to impending crossroads.
In 2007, he lost his car and apartment to a debilitating heroin addiction and became homeless.
Finding shelter in abandoned buildings or the woods was not the worst part for Jenks.
"I still couldn't stay away from the drugs," said Jenks. "I would steal, just to get more."
Jenks attributes his recovery from his addiction and homelessness to his support network.
"They saw things in me that I had forgotten about myself," explained Jenks. "They reminded me that everyone was special and that I could do whatever I wanted to."
Once he completed drug rehabilitation himself, Jenks sought to help individuals who were going through the same struggles as he had, and was hired by the Juvenile Justice Commission. Simultaneously, Jenks began working towards a degree at Thomas Edison State College and Lincoln University. He worked hard to maintain a 3.5 grade point average, and looked toward the big picture, all the while.
"I just prayed to keep my sanity," said Jenks. "You can't just need it, you have to want it more than anything."
Today, Jenks works as a lead outreach worker for the Trenton Violence Reduction Strategy and has begun to work on a second Master's Degree. He believes that education is crucial, but the lessons that life and his loved ones have provided him are irreplaceable and have made him the man he is today.
"Once someone planted the seed in me, my ambitions began to grow," said Jenks. "The trust of others means a lot to me, and when people began helping open doors for me, it helped restore my faith in human nature. It's been a great journey; the hard times helped me build character, and I learned something at each step. I'm hungry and have a thirst for life."