By Jared Wolf
The plight of individuals experiencing homelessness in the Mercer County area remains a recurring issue that our community faces. This is especially problematic when these issues of poverty interfere with the well-being of children. As impoverished parents struggle to provide a nurturing environment to raise their families, their children face the challenge of experiencing a healthy childhood from which they can transition into a prosperous adulthood.
Despite the plethora of facilities, organizations, charities and government programs specifically designed to combat this issue, homelessness and poverty remain one of the greatest challenges to tackle in New Jersey.
In the past decade, homeless shelters and facilities have been reorganized, renovated and expanded in direct response to this inconvenient truth. One recently established facility in particular has made a tremendous impression on the Mercer County community in its short life span.
On Wednesday, Sept. 16, 2015, HomeFront celebrated the Grand Opening of its Family Campus and Preservation Center at 101 Celia Way in Ewing, N.J. As a local nonprofit organization established to combat and lessen the immediate pain of homelessness by harnessing the resources and expertise of the community, HomeFront is beyond excited to make full use of the many resources and opportunities the amazing facility offers.
The newly opened Family Preservation Center Campus is making an immediate impact on the local community. As a fully funded public project, the new building is designed to provide a safe learning environment and shelter for families in need in the central New Jersey area.
Since opening, the facility has welcomed over 30 thankful families with open arms. The top floor has 30 residences for families with single moms, while the bottom floor has eight residences for families with single fathers, a new feature of the HomeFront program, which had previously been devoted to providing care for solely female parents.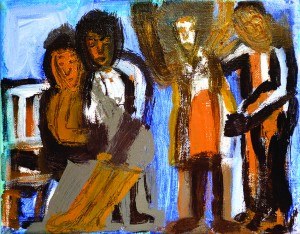 According to Liza Peck, the Volunteer Coordinator for family campus, "The center works closely with a number of different agencies, such as the Mercer County Board of Social Services (MCBSS), to ensure that HomeFront can accommodate all the things a family needs in one space."
Throughout the day, families are given opportunities to discover new interests, break bad habits and learn new skills. Children are provided with childcare every day. In addition to an art space and sewing area, via HomeFront's already established program called ArtSpace, the Family Campus provides parenting and budgeting classes, housing and tutors.
"The overall impact of this building — every corner, every room, every decision that was made — is with an eye to making sure our guests are treated with dignity and respect," said Director of Development Judy Long.
As Long envisioned the near future for the new facility and its families, the excitement in her voice was palpable.
"We want to give these families a vision for a better future with endless possibilities, not just by giving them hope, but by giving them the tools to fulfill that hope," Long said.
In addition to the many skill-based workshops and programs, the residents are provided with Rational Emotive Behavioral Therapy (REBT), which emphasizes the importance of thinking before you act. HomeFront has also included the WorkFirst program and Temporary Assistance for Needy Families (TANF).
The WorkFirst program is a welfare reform program offered to residents who are looking for new job and career opportunities. Career specialists are available daily in the Hofmann Career Center. Volunteers aid adult residents by providing them with the opportunities and resources they need to discover or realize their desired career path.
Healthcare services have been implemented in conjunction with local agencies to ensure the utmost comfort of guests. Cooking classes are located in the Teaching Kitchen with recipes for affordable, nutritious meals. There is a computer lab, lounge, library, yoga studio, music room and so much more.
The ArtSpace facility on the main floor of the center is a great place for guests to relax, cope with stress in healthy ways and escape from daily struggles.
According to one of the guests, Jamie, the ArtSpace program serves as "a place where we can learn a lot about ourselves."
Jamie, who has been a part of the HomeFront family for two months due to her experiences with domestic violence, discussed how she has changed from the time she first starting living at the center.
"I have gained a more positive outlook on life," said Jamie. "I can now see myself going further, beyond where I am today."
While her struggles have not magically disappeared, Jamie saw a profound transformation in her attitude and well-being since she first arrived.
"I have an urge to want to do more — not just for myself, but for others," Jamie said.
HomeFront Family Campus
101 Celia Way Ewing, N.J. 08628
Phone: (609) 989-9417
Website: www.homefrontnj.org
Email: homefront@homefrontnj.org