By Annette Espinoza, Jared Kofsky & Engy Shaaban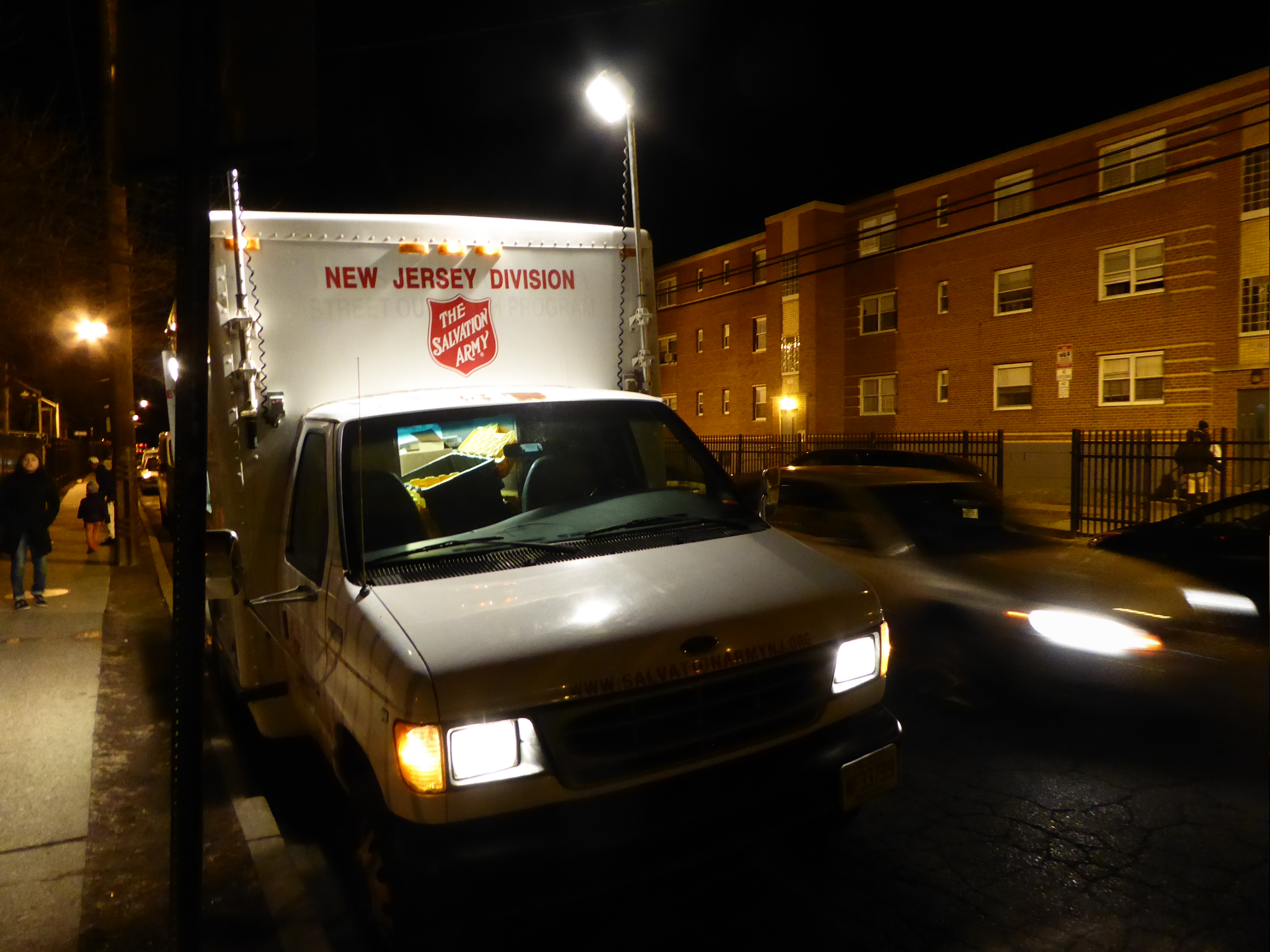 While a number of innovative organizations and programs are working to provide food services to individuals experiencing homelessness and food insecurity, one newly implemented effort stands out: The Salvation Army's Mobile Canteen.
The initiative first began in October 2015 through the combined efforts of the then Corps Officers of the Trenton Citadel Corps, Captains Moises and Jackie Rivera as well as Salvation Army employees, Shanique Taliaferro and David Simmons and two dedicated volunteer chefs, Chris and Nico Cappuccino.
Today, the initiative is comprised of a service unit truck that travels around Trenton on Friday nights to deliver a warm meal to residents. The canteen serves hot, nutritious meals and gives access to information regarding social services/programs offered by the Corps on a consistent, weekly basis. When available, it also provides residents with personal items such as grooming kits, books, and socks and Poetry hats in the winter. It serves approximately 150 Trenton residents every Friday.
Over the past several months, the service has become a vital resource for individuals experiencing food and home insecurity in Trenton. The initiative was first started in response to a need in the Mercer and Trenton communities: the most prominent soup kitchen in Trenton is closed on Friday nights, leaving a number of city residents without access to their final meal of the day.
The Mobile Canteen works to meet this need, "It is a great way to supplement the efforts of the other hardworking non-profit organizations in the area. It is also a great way to do community outreach, identify needs, and to try to implement a plan to help an individual or family," said Danielle Focarile, the Special Events and Communication Manager of The Salvation Army of Mercer, Hunterdon and Somerset Counties (West Central Region).
The Wall recently accompanied the Mobile Canteen as it traveled through the capital city on a frigid Friday evening. Every time the vehicle, covered with The Salvation Army's logo, pulled up to one of its four stops, crowds of Trentonians, including children and senior citizens, approached, hoping for a warm meal.
At each of the locations, which included Walnut Avenue, Carroll Street, Martin Luther King, Jr. Boulevard, and the corner of Oakland Street and Hoffman Avenue, a variety of items were distributed, from cheeseburgers to copies of The Wall.
After each stop, the group linked arams with community members who stopped by, said a prayer together, and moved on to the next neighborhood.
In a short period of time, the project has made a significant impact in the Trenton community. For those working the canteen, they are not only serving food, they are also engaging and building relationships with neighbors and community members.
"The initiative has impacted the Trenton community by showing them we care. We are accomplishing our mission of 'doing the most good' in these neighborhoods. A child running up to our canteen each week happy, excited knowing that they are going to have a good meal that night makes the initiative impactful to us and those we serve." said Taliaferro.
After many months of successfully serving Trenton residents, the team is looking to expand its impact in the community.
"Our current goals are to identify those who are in need and to try to help them the best we can. While providing a nice meal once a week is a good start, it is our long-term goal to provide the tools and opportunities for those who are reliant on us to become independent and contributing members of society," said current Corps Officer Major Elijah Kahn.
To learn more about the Mobile Canteen and volunteering for The Salvation Army, contact Shanique Taliaferro: shanique.taliaferro@ usa.salvationarmy.org (609) 599-9373 x114
Photos by Jared Kofsky and Annette Espinoza