By Jared Kofsky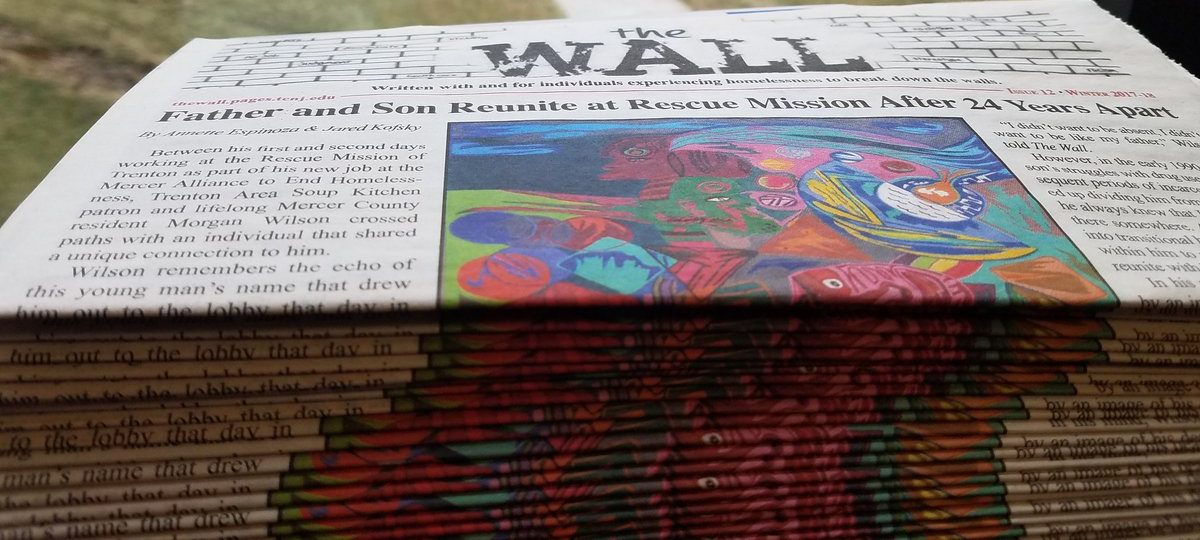 For eight years, The Wall has been published by Bonner Community Scholars at The College of New Jersey with and for individuals experiencing homelessness in Trenton and surrounding communities in Mercer County, New Jersey. Since our first issue was released in 2010, we have been providing our readers with a guide to local resources, news about local organizations, information about laws impacting residents experiencing homelessness, op-ed pieces, human interest stories, artwork, poetry, and more.
Currently, we are distributing the 2017-18 issue of our publication to dozens of libraries, soup kitchens, shelters, and food pantries across the capital region. This issue, which can also be viewed here, features a profile of the Trenton Community A-TEAM's Demond Williams, an update on the issues affecting Trenton's water supply, two pieces by columnist Essence Scott, a look behind the scenes of The Salvation Army's Mobile Canteen, a preview of the Rescue Mission of Trenton's upcoming shared living space for women experiencing homelessness, information about RISE in Hightstown, and an exclusive report about a father and son reuniting outside of a Trenton shelter.
However, the latest edition of The Wall that can now be found throughout Mercer County and eastern Bucks County is also the last edition of The Wall. Fortunately, although the name that this publication has used since the first issues were distributed nearly a decade ago is coming to an end, the content that you have come to expect from us is not going away. In fact, there will soon be even more of it.
The team behind The Wall is excited to announce that we are officially changing our name to The Streetlight. The changing of our name, which was approved by our Editorial Board in November 2017, will also come with a new website, a new email address, a new logo, a new resource guide, community events, and more! Stay tuned for the Summer 2018 edition of The Streetlight and for additional announcements coming your way.
As always, we welcome your involvement in what is now The Streetlight. To learn more about joining our publication, click here.